Dell EMC Enterprise Solid-State Drives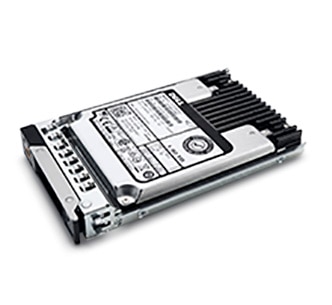 Dell EMC™ offers different SSD solutions to meet diverse customer needs. Enterprise SSDs as a class are unique against client or consumer-based SSD in terms of reliability, performance and architecture.Enterprise-class SSDs are designed around enterprise application I/O (input/output) requirements concentrating on random and sequential I/O performance, reliability,endurance and protection of data during a sudden power-outage.

Understanding the basics of enterprise-class SSDs allow customers to make informed decisions when comparing solutions.

Over-provisioning: The Achilles' heel of SSDs are their write characteristics. To rewrite an area of an SSD that has already been written, the data must be erased and then written. Best practice dictates over-provisioning, which adds native flash capacity in the SSD to overcome a portion of the write performance penalty. It also utilizes the additional space to quickly write application data on areas of flash that are already in an erased state .

Write Endurance: Write endurance is the number of program/erase (P/E or write cycles) that can be applied to a block of flash memory before the storage media becomes unreliable. Due to different data center workloads and read/write needs, Dell EMC offers different enterprise SSDs with different endurance ratings so customers can design the right solution for their needs.
Below are the categories of enterprise SSDs Dell EMC offers:
Write Intensive (WI): 50/50 read/write workloads with highest endurance. HPC, database logging, and caching are example workloads.
Mix Use (MU): 70/30 read/write workloads with medium endurance. E-mail/messaging, OLTP, and E-commerce are example workloads.
Read Intensive (RI): 90/10 read/write workloads with lower endurance. Database warehousing, media streaming, and VOD solutions are example workloads.
Boot Optimized (Boot): Lowest cost/small capacity SSDs designed to be used as a boot device in servers. Low endurance is also a characteristic.
Dell EMC enterprise SSDs support the following options.

SATA SSD: SATA SSDs are based on the industry standard SATA interface. SATA SSDs provide reasonable performance for certain enterprise applications.

Value SAS SSD: Value SAS is a new class of SAS SSD that leverages the PowerEdge SAS server infrastructure to deliver better performance, latency, and reliability than SATA SSDs, at a comparable price. These drives are lower cost and have lower performance than standard SAS SSDs, positioning their performance characteristics between SATA and standard SAS. Value SAS is an easy replacement for SATA SSDs and provide greater value for most enterprise applications.

SAS SSD: SAS SSDs are based on the industry standard SAS interface. SAS SSDs combine superior reliability, data integrity, and data fail recovery making them better than SATA SSDs for most enterprise applications.

PCIe SSD: The Dell EMC PowerEdge Express Flash PCIe SSD is a high performance solid state storage device that enables IOPS performance of up to 2000X more than conventional rotating hard drives.
Please don't hesitate to contact us on 0861 711 712 (within RSA) or +2711 027 6793 (International) should you require a specific brand and/or different ssd from our listing. Alternatively email us at support@tekmart.co.za with your request. Our sales consultants will gladly assist you with your purchase*.